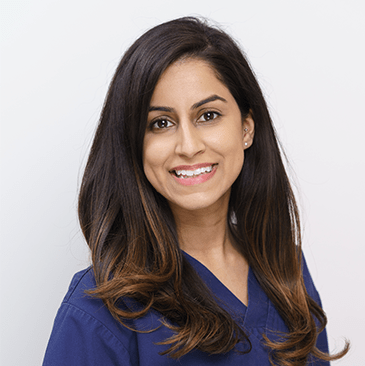 Dr Ria Chande
Dentist
GDC NO.229758

BChD (Leeds), MFDS RCS (Ed)
MA Dental Law & Ethics
Associate Dentist, Educational Supervisor, Facial Aesthetics Practitioner.
Dr Ria has been an integral part of Desford Dental Care for almost a decade, delivering outstanding general and cosmetic dental services. In her time at the practice, she's formed great relationships with her patient base and has established a trusted rapport with individuals and families alike. Her friendly and calm approach has generations of families choosing to be treated by Ria, from infants all the way to centenarians, meaning she gets to see her patients grow, one of Ria's loves of the job.
Ria focuses on elevating her patient's self-confidence by helping them achieve a beautiful and healthy smile, with an emphasis on minimally invasive dentistry and prevention techniques. She has undertaken a vast amount of postgraduate training including a number of advanced cosmetic courses, and to date has successfully completed a Masters degree and a Diploma of Membership of the Faculty of Dental Surgery, as well being certified to deliver Invisalign, BioClear and Facial Aesthetic treatments, to name a few. On top of her daily duties, Ria is also a trainer for Foundation Dentists, guiding and nurturing students with her years of knowledge in the dental field.
When she's not spending time with her patients, you'll find Ria with an apron on, exploring and experimenting with new cuisines from around the globe, combining her passion for travel with her love of food. Ria has been fortunate to be able to supplement trips she's taken, with charity work, one project of which saw her help deliver dental care services in remote areas of Cambodia to citizens that would have otherwise not had access to these health services. She hopes to be able to continue this work throughout her career and utilise her skills worldwide to help those that need them.
Back to Our Team